Pacific Talent Partners is always available to provide advice on the whole talent management life cycle. Please don't hesitate to contact us on the details below.
Net Promoter Scores (NPS) are the present and future of service feedback. We are proud to be engaging with our audiences at a six-star level, ensuring that we leave each individual satisfied with a positive view of our brand. We are not a transactional business, instead, we look towards a lasting partnership and we highly value any feedback on our service. It is rare to find other firms with a high NPS score like ours, and we strive to continuously improve the service we provide to those engaged with our brand.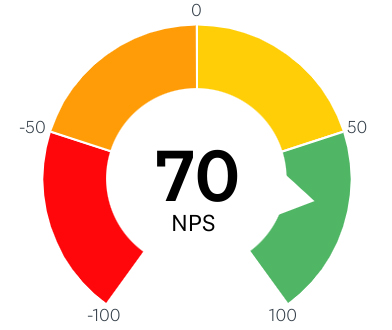 General Manager
The consultant was very personable and put me at ease very quickly during our call. He was great at teasing out the important aspects of my resume and helping me think about my experience in a different way. I felt that he was interested in me and my career objectives, rather than trying to pigeon hole me to fill a role.
Head of Commercial
My experience with Pacific Talent Partners was overall positive and supportive, enabling a high level of engagement and extremely professional.
Head of Digital Sales
Having met scores of recruiters over the years, I was expecting a similarly average service but the practice lead I was assigned with took the time to ask lots of questions and listen to what my career growth goals were.
Associate Director
I found James' approach refreshing and engaging. I believe this would translate into good outcomes.
Transformation Executive
The practice lead I was allocated with was extremely professional and responsive after reviewing my CV for a specific role. He followed up promptly and then arranged a time to meet despite me not being suitable for the specific role I applied for. We had an engaging discussion which was greatly appreciated.
General Manager
I received a response quickly to my initial reach out. I was lucky to be interviewed for initial discussion by a quality consultant who was well prepared and conducted a well managed interview.
Chief Operating Officer
During this job search I'm finding it very rare for consultants to take the time to even pick up the phone to talk to candidates that have applied for advertised roles. Elliot took the time to set up a meeting and understand my background and also what I'm looking for in my next role. My experience to date is that this is very rare amongst consultants currently.
Head of Finance
Responsive and considered, interested in candidates perspective.
General Manager Strategy
Great practical and candid conversation with Elliot.
Head of Financial Planning
Elliot was honest, engaged and helpful – did not just listen or ask questions, but provided helpful suggestions and comments. Was honest and upfront about the market, my own CV and prospects.
Executive Director
The conversation with Elliot was informative and engaging. He showed a strong understanding of the market and how we may approach my next role, without promising the earth.
Managing Director
General professionalism and partner credibility.
Chief Operating Officer
I met with Elliot Long. Professional and engaging, no false promises.
Chief Financial Officer
Professional, good insights, genuine in approach.
Finance Director
Very professional organisation. Very knowledgeable.
Executive General Manager
I enjoyed the discussion with the senior manager. He responded quickly to our initial contact, and provided wise counsel on how to maximise my opportunities in the market.
Chief Executive Officer
I find the team at PTP to be well versed in their engagements and are very thorough in their approach. Additionally, I find they find out answers for both the prospective employer and the prospective employee, a critical element of the hiring process.
Partner
The practice lead I was allocated with was very impressive. Highly efficient, knowledgeable and extremely perceptive.
Chief Executive Officer
I was impressed you took the time to meet in person and get to know me/my story to better understand how I might be of interest to your clients.
Managing Director
The quality of the discussion and a true desire to seek to understand my past experience. A hopeful outlook which is positive in the current environment.
Director of National Operations
I walked away from meeting Phillip and the senior manager feeling confident about my future and I appreciated their honest and upfront feedback.
Chief Executive Officer
Very professional, questioning and approach are aligned to how I would recruit people, flexible with timing.
Managing Director
The senior manager's candidate care has been outstanding. From the original call, to meeting in person and truly taking the time to understand me. What has been most impressive is how he has gone out of his way to connect me to a number of leaders from Afterpay to other connections to open a dialogue which may lead to either consulting or full-time work. Its been an absolute pleasure working with him.
Managing Director
The senior manager shows a genuine interest in understanding the candidate, and is more than willing to explore, discuss and offer value based on his own experience and insight. I have always found PTP to be more personal in their approach, as well as provide a comprehensive and professional service. This creates stronger and more transparent relationships that give clients and candidates more confidence in their progress and ultimately achieving the best outcome.
Chief Operating Officer
Genuine people, professional, and take a personal and customized approach to helping candidates.
Business Development Director
My experience has been very positive, from setting up calls/interviews to the two detailed interactions I've had with the practice lead I was assigned with. The team have been friendly and warm, whilst also showing their know their craft.
General Manager
I was very impressed with the practice lead that I consulted with. He has deep understanding of job market and is well connected with key employers. He was very professional and has good interviewing skills
Executive Director
I met with the practice lead of the chief executive practice who was very professional, insightful and at the same time personable, putting candidates at ease. I would highly recommend him to candidates and employers alike. He seems truly passionate about his work, innovative and determined to help people find solutions in a very difficult economic climate. Many thanks for the opportunity to meet PTP and provide feedback.
Brand Manager
Genuine interest in me, my goal and guidance on next steps. I'm extremely appreciative and look forward to an ongoing relationship with Pacific Talent Partners.
Chief Executive Officer
I found the practice lead very helpful and informative. He had a great way about him and the time spent was extremely valuable. I can see why PTP came so highly recommended to me and why they are so successful.
Product Manager
I had an open and honest conversation with the recruiter. This happened because he created the right environment for this to happen. It gave me the trust and confidence to discuss my experience and how it could be applied in the role discussed. He also provided valuable insights.
General Manager
The consultant I was assigned with was very thorough with his screening of me as a candidate, first over the phone and then a follow-up face to face meeting. He asked intelligent questions to really understand me and my skills, experience and career goals. This level of investment in getting to know me as the candidate prior to recommending me for interview to the client is reassuring that due diligence in the screening process was applied.
Chief Culture Officer
Very responsive, personal and professional team.
Chief Executive Officer
Professional and knowledgable team.
Chief Strategy & Transformation Officer
The practice lead was highly professional and engaged.
Digital Marketing Manager
An extremely well-organised and efficient system. I felt my consultant was prepared, knew what I was looking for and had questions that were not just pro-forma. I was very impressed with the consultant I was allocated with.
Head of Business Development
The consultant was very prompt in replying to me and transparent about the role on offer and the timelines.
Chief Operating Officer
Responsive, friendly and candidate focused.
Head of Ecommerce
It was refreshing to talk to a consultant that took the time to go through my career and journey to ultimately be able to align with me in what I want for my next role. Very honest and realistic about the market and challenges. Great feedback on CV & key tips and tricks for standing out from other candidates for future opportunities/interviews.
Chief Operating Officer
Good engagement and very professional. Evident strong market knowledge, engagement, work ethic and process.
Chief Operating Officer
I received a response to my application quickly. Often it takes weeks to receive a reply (if at all). The practice lead provided a great brief of the role requirements in an initial quick catch up and then more details in a follow up call which made good use of both our time. The hour video interview was well structured and the questions made sense based on what had been described to me about the role.
General Manager
Outstanding service and honesty.
Global Marketing Director
The consultant I dealt with was exceptionally well-spoken and friendly. He provided insightful feedbacks that help me understand more of the job requirements.
Head of Supply
I gave a high rating as I found the practice lead to be open about the opportunities at hand and in the information he gave. I found he listened well to my experiences and gave good feedback during the meeting.
Digital Marketing Leader
A good discussion. The consultant was very interested in discussing my profile. He was also well informed regarding the role.
Finance Director
After meeting with Elliot, I thought he was perceptive, professional and warm.
Chief Financial Officer
The consultant I met with (Elliot Long) was engaging, professional and personable.
Chief Financial Officer
Knowledgeable consultant who provided sound advice.
Chief Financial Officer
I was very impressed with Elliot's professional and matter-of-fact approach.
Chief Financial Officer
Elliot Long is very professional and proactive.
Chief Financial Officer
Elliot was proactive, knowledge-rich and added value added content as well as being approachable.
Senior Manager, Treasury
I found Elliot Long to be responsive to my needs. He demonstrated a solid understanding of current market conditions and where future opportunities may exist that suit my skills and experience.
Chief Financial and Operating Officer
Elliot was generous with his time and advice.
Director
I appreciated the personal contact from the practice lead I consulted with following my initial application and then also appreciated the sensibly focussed follow-up face-to-face call with Elliot.
Recruiting Project Coordinator
Clear, prompt and professional in all communications.
Chief Customer Officer
The senior manager and Melissa have been so supportive and encouraging. It was so good to work with people who genuinely care.
Non-Executive Director
It was great to meet Phillip and the senior manager. Both seemed highly personable, interested in my story and proposition, as well as keen to help me in my search.
Group Manager
My interaction with your company has been excellent, most professional and a well presented interviewer.
General Manager
Personable nature and impressive level of business acumen from the consultant. Clearly not a tick & flick recruiter – very professional.
Founder
The consultant of the chief executive practice knows the market well and provided advice beyond the opportunities in hand.
State Logistics Manager
The senior manager I consulted with provided good feedback regarding my career development.
Founder and Managing Partner
A very clear and honest presentation of the opportunity Very quick and sharp process efficient and not superficial
General Manager Retail
I found practice lead I dealth with to be open, honest and willing to share his thoughts and insights.
Non-Executive Director
Timely response to enquiry, clarity around the role and respect for candidates.
Business Development Manager
Very professional and thorough in dealing with me for the offer and clear in what/who you're seeking.
Chief Operating Officer
The consultant I was assigned with was very personable, communication was great before the visit and the office location was easy to get to.
Executive Director
The practice lead I consulted with was very professional and personable. He takes a real interest in the candidate and looks at their capabilities/competencies rather than the roles they have performed.
Materials Planner
The consultant I was allocated with was excellent during the vetting process and he made me feel comfortable quickly. He drove the interview with leading questions which I felt provided me the opportunity to expound why I am suited for the role.
Senior Sales Consultant
Service, People, Consultants that are proactive and think out of the box. Professional.
Chief Financial Officer
Professional, courteous and knowledgeable.
Head of Finance
Elliot is very professional, engaging, and knows his stuff. So many in this industry simply do not!
Chief Financial Officer
Elliot was knowledgeable and provided relevant information that I can utilise.
Financial Controller
Very professional!
Chief Financial Officer
My application was reviewed and the interview was set up promptly. At the interview, Elliot was courteous, informative and professional in his approach. The interview was thorough and I was given feedback as to how my Resume could be improved and the go forward timing and plan regarding the job.
Finance Director APAC
Elliot is very responsive and provides excellent candidate care.
General Manager
Fantastic candidate & client care. Very knowledgeable, trusted advisors in the truest sense of the phrase, without a doubt the best in the business by far.
Chief Executive Officer
I was impressed by the high energy engagement, quality of the conversation and the immediate action after I left.
National Head of Sales
From the moment I was contacted by PTP whomever I spoke to showed a very high level of professionalism. I have dealt with numerous people so far as they work in a team based environment and they were all across the same information which tells me a lot about the level of internal communication within their business. Keep up the great work!
Director and Board Member
First impressions are important. PTP delivers on this! From the time I arrived and throughout my visit, I felt welcome and comfortable. All the staff I encountered were very pleasant and professional.
We are proud to represent some of the most exciting Australian and Global businesses.